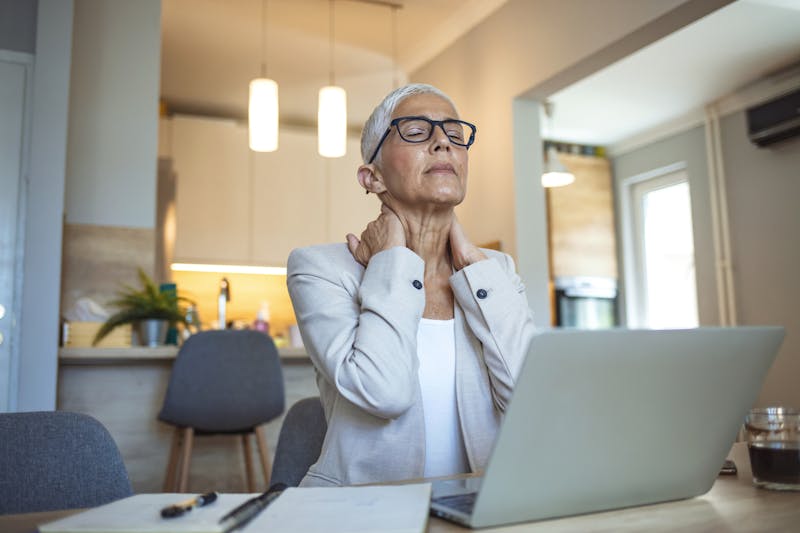 There's a reason we use the term 'pain in the neck' to describe the truly annoying people we know; because neck pain is awful. It can easily sap the enjoyment out of a day, making day-to-day life difficult to deal with. Dealing with neck pain is very inconvenient, but with the right chiropractor, you can get relief from neck pain and even prevent it from happening in the future.
Causes of Neck Pain
There are several reasons you may be experiencing neck pain, including:
Disc Injury
Our spines have soft discs in between the vertebrae to help hold them in place. These discs can become compressed by injury or poor posture, causing numbness or pain that can remain in the neck or shoot down the body. At Intouch Chiropractic, we see this kind of injury regularly and can help heal it naturally with no invasive procedures.
Poor Posture
Poor posture plagues many people, and it can range from sleeping on an unsupportive pillow to hunching when we sit. Many of us work with computers at some point in our day, and proper posture is frequently lacking when we're sitting at a desk. This poor posture can injure and misalign the cervical spine, strain soft tissues, squeeze discs, and pinch nerves. Your San Diego chiropractors at Intouch Chiropractic can work with you to realign the cervical spine and find ways to improve your posture and prevent further back problems.
Whiplash
A common injury from car accidents, on-the-job accidents, or sports injuries, whiplash is a strain or sprain of your neck's soft tissues. Visiting Intouch Chiropractic for this injury is a common way to ensure you've healed entirely from your whiplash injury and can carry on with your life without neck pain.
How a Chiropractor Helps With Neck Pain
The Chiropractic Adjustment
Also called cervical manipulation, a chiropractic adjustment eases pain by correcting misalignment in the spine. In addition, your experienced chiropractor will improve joint mobility and mechanics. All this leads to decreased inflammation, spasms, and pain.
Knowledge and Exercises
The chiropractors at Intouch Chiropractic deeply understand the body and how it interacts within itself to work. Because of that knowledge, they know what causes injury and what heals it, and they can work with you to reduce your discomfort. By visiting Intouch Chiropractic, you can gain an understanding of how you got hurt, how to repair the injury, and how to prevent similar injuries in the future. This can include strengthening exercises, proper posture protocol, and changes to your day-to-day life that assist your body's unique needs.
Drug-Free San Diego Neck Pain Solutions
As we turn to understanding the body instead of using drugs to solve every ailment, the demand for natural pain solutions is rising. The chiropractors at Intouch Chiropractic understand the importance of working with your body to create meaningful and deeply penetrating healing. They will find ways to limit pain and help with movement or realignment of the neck and corresponding muscles, ligaments, or cervical spine.
Get Rid of Neck Pain With Intouch Chiropractic
Neck pain isn't something that you should have to simply accept as part of your life. You deserve to be comfortable in your day-to-day life, and at Intouch Chiropractic, our skilled San Diego chiropractors can make that a reality. Our team understands how to diagnose, treat, and prevent neck pain while providing each patient with compassionate, personalized care. Contact our office today if you'd like to schedule a consultation with one of our expert chiropractors.