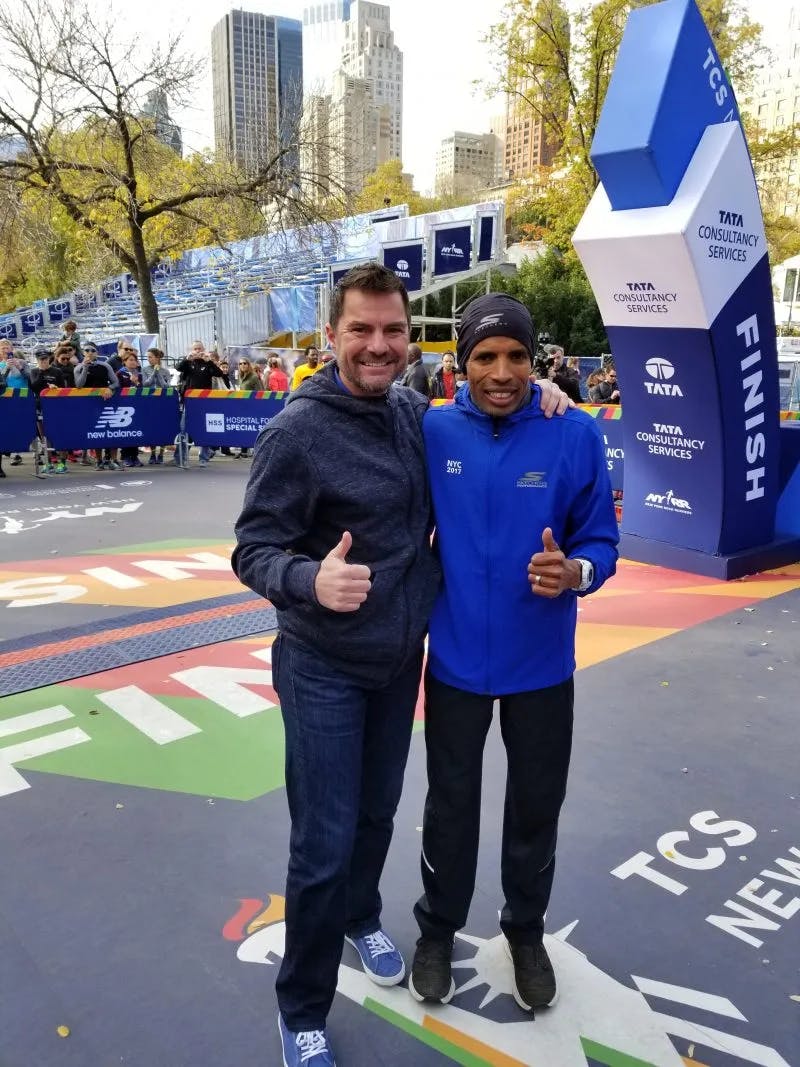 Secrets of the only athlete in history to win the New York City Marathon, Boston Marathon and an Olympic medal!One-In-A-Million
I'm lucky to call Meb my friend. Not only is he an outstanding human, he is an outstanding athlete that has put in the time training, day in and day out. He has won more races than I can remember. The most memorable are the Boston Marathon in 2014, the NYC Marathon in 2009 and qualifying for the most recent USA Olympic Team. Believe it or not, I met Meb before I was even a chiropractor. I was living in Mammoth, California and he was too. It is not uncommon for high-level runners to live in the mountains and train at altitude. Have you ever tried running in freezing cold temperatures or in the snow? That's what it takes to be an elite athlete. You have to be religious about your training, your food and your routine. "You have to do what others won't", that is one of Meb Keflezighis' secrets.
Meb Keflezighis' Secrets
Earlier this year, we we had a group of students in our office that were considering chiropractic as a career for a pre-chiro club meeting. Meb is a huge advocate of chiropractic, and I thought to surprise them by inviting him. It was very cool to see their faces light up when he walked into our office that evening.
One of the girls asked Meb, "I understand that you train and do everything to stay in top shape, but doesn't everybody do that? What gives you the edge to show up and win time and time again? Doesn't everybody do whatever it takes?"
He smiled and said, "No, not really. I can count on one hand how many beers I have drank in my lifetime. Many people win and go straight to the bar. It's not good enough to do all things sometimes, or somethings all of the time. You must do all of the little things all of the time, because all of the little things add up. That's what it takes."
There you have met…there are no shortcuts. You must be committed to show up in all ways, all of the time, every time.
Meb's Last Marathon: NYC 2017
Meb officially announced his retirement, and chose the NYC 2017 Marathon as his last event. His 26th marathon, and we certainly couldn't miss it. We flew cross-country to watch him cross the finish line one more time. Bittersweet. It was so exciting to be there and cheer him on along with everybody else. We just got back from New York yesterday! What a legacy! Emotional! Exciting! Exhilarating! It has been my honor to be your chiropractor, and most importantly, your friend. You are an amazing example of humility and respect. I wish you a lifetime of blessings and good fortune. San Diego is lucky to have you and your family! Here's to chiropractic and fantastic health!
Dr. Devin Young, DC
*Want more amazing stories like this? Check out the epic life of André Kajlich!
Give us a call if you're an athlete seeking help with your sports performance or Plantar Fasciitis help in San Diego!
Gentle Adjustments. Powerful Results.
Gentle NUCCA Chiropractors
Intouch Chiropractic | San Diego, CA
sandiegofamilychiropractic.com