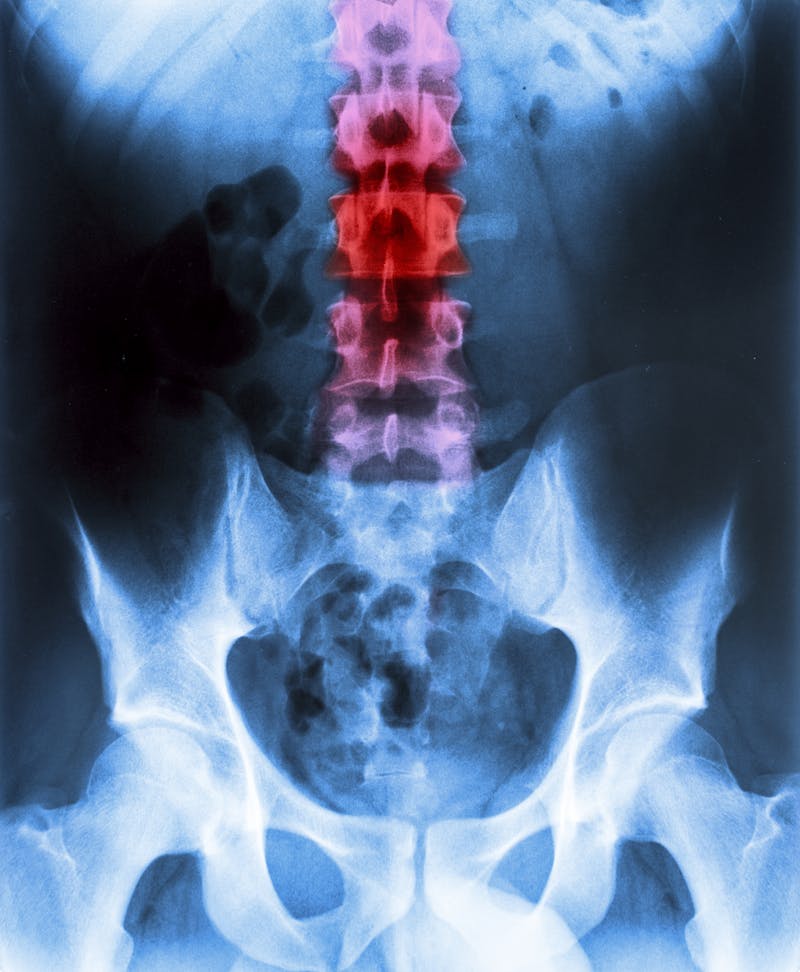 Millions of us suffer from back pain on a daily basis leaving us to wonder, "Can a chiropractor fix a herniated disc?" Herniated discs are a leading cause of neck and back pain. This problem often includes risk factors such as lifting heavy objects, repetitive bending or twisting motions. Other factors may be, smoking, being overweight, or sitting for long periods of time.
A herniated disc can become worse over time if left untreated. This is especially true if you continue with the activities or movements that initially triggered the problem. Chiropractors are skilled professionals who offer a variety of treatments that can help relieve your pain and get you on the road to healing.
What is a Herniated Disc?
A herniated disc is a problem related to one of the discs or rubbery cushions that sits between the vertebrae that make up your spine. When some of the jellylike center of your spinal disc is pushed out through a tear of the disc's rubbery exterior a herniated disc will occur. A herniated disc can occur in any portion of your spine but is most common in the lower back. It can result in numbness, pain, or weakness in your arm or leg.
Can a Chiropractor Help a Herniated Disc?
Chiropractors offer a variety of non-invasive treatments that can relieve the symptoms of a herniated or slipped disc. Here are a few of the things you can expect from a chiropractor to help alleviate your pain and discomfort when dealing with this painful condition.
Assess Your Overall Condition
The first thing a chiropractor will do is evaluate the overall health of your spine. They will also go over your complete medical history as well as perform a physical exam. They will be looking for any numbness, normal reflexes, as well as a decrease in muscle strength and mass. If your chiropractor feels you are a suitable candidate for chiropractic care, they will recommend you for the appropriate treatment methods.
Recommend Chiropractic Treatments
Depending on their findings in your initial exam, your chiropractor will customize a treatment plan for your specific needs.
Perform Suitable Chiropractic Techniques
A chiropractor may suggest a number of various treatment methods from conservative to more aggressive as they see fit. This could include techniques such as non-surgical spinal decompression, chiropractic adjustments, laser therapy, or shockwave therapy just to mention a few.
Can You See a Herniated Disc on an X-Ray?
Many times a herniated disc can be detected by a physical exam and a review of your medical history. X-rays are helpful, and may be beneficial in ruling out other issues such as spinal alignment issues, broken bones, or infection. Other imaging tests such as an MRI or a Myelogram are are oftentimes used to diagnose the cause of your back pain.
How to Sleep with a Herniated Disc
Most specialists advise against sleeping on your stomach as it can be hard on your spine. It strains your ligaments, vertebrae, and muscles in your neck and can result in increased lower back pain. Sleeping on your stomach can alter the natural curve of your spine.
With that said, the best position for sleeping when you have a herniated disc is in a position that allows the spine to keep its natural curvature. Even if you prefer sleeping on your stomach, sleeping on your back may be the smartest sleeping position to choose for a herniated disc. If lying on your back is too painful, slide a pillow under your knees and lower back. If you are a side sleeper, we recommend placing a pillow in between your knees to alleviate hip pain.
How Long Does a Herniated Disc Take to Heal Itself?
The good news is that for a majority of people, the pain from a herniated disc will go away within 6-9 months. That's a long time! You may be advised to take over-the-counter medication to help control inflammation and to manage the pain. If your pain persists, your doctor may recommend further evaluation and possibly new treatment options. Surgery is generally avoided unless the problem isn't responding to the prescribed treatments or there are indicators your spinal cord is being compromised.
Can a Herniated Disc Cause Permanent Nerve Damage?
The answer is yes. Untreated herniated discs can eventually lead to permanent nerve damage. However, this is only the result in very rare cases. The herniated disc can cut off nerve impulses to the cauda equina nerves that are in your legs and lower back. This could lead to loss of bladder or bowel control.
Your symptoms may improve over time without treatment. But there is also a chance they will get worse. If you feel pain while performing movements or activities you once enjoyed, it's time to seek help from a healthcare professional.
What is the Difference Between Disc Herniation and Disc Protrusion?
It's easy to confuse one back ailment with another when you aren't in the medical field. However, when people talk about disc herniation and disc protrusion, they are talking about the same thing. They are both referring to the process when the nucleus pushes completely through the annulus and squeezes out of the disc. It may be helpful to note that if a piece of the disc breaks off, it's referred to as a sequestered fragment and will nearly always result in surgery.
Can a Massage Make a Herniated Disc Worse?
While massage therapy may not heal your herniated disc, it can assist in the rehabilitation process. When practiced on surrounding tissue, it can increase blood circulation while improving range of motion and flexibility. However, massaging directly on the actual herniated disc may aggravate your condition and increase your pain, so be careful. Focusing on the muscles on either side of the spine gives the injured area the best possible chance to heal on its own.
Can a Chiropractor Fix a Herniated Disc Conclusion
The majority of people with herniated discs will heal on their own over time. However, if you are in large amounts of pain and feel you are restricted from performing life's basic tasks, take action. Our trained doctors at Intouch Chiropractic offer non-invasive treatments that can assist in lowering your pain levels and speed up your recovery time. Our skilled staff is known as the best in the San Diego area. We have an extremely diverse clientele who suffer from a variety of ailments. Let us customize a treatment plan for you to get you feeling better and back on track.
Click here to schedule an appointment. You can also call us at (619) 756-7510.