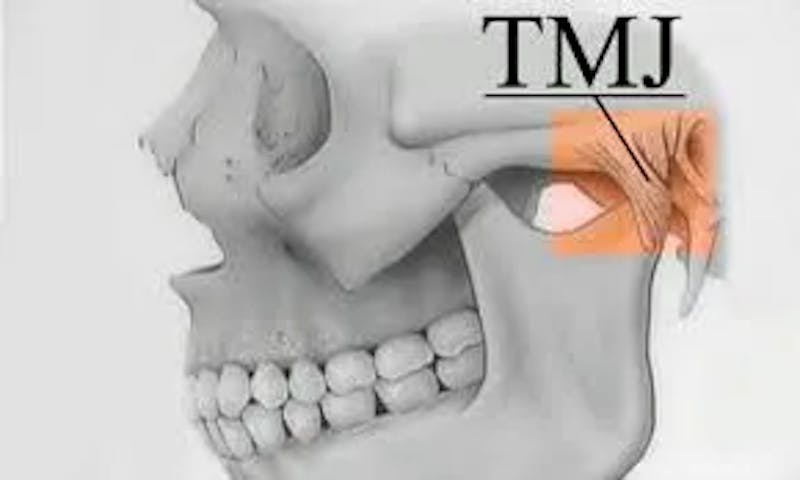 What is TMJ?
TMJ stands for temporomandibular joint. This joint allows us to bite, chew, talk, sing, yawn, etc. It is the joint that lies on both sides of your mouth therefore it acts like a hinge between your upper and low jaw. According to the International College of Cranio-Mandibular Orthopedics (ICCMO), when this hinge joint becomes misaligned, it can cause severe pain and a variety of symptoms such as neck pain, headaches, migraines, shoulder pain, eye pain, vision loss, and even hearing loss. Many patients seek for TMJ relief for years.
What Is TMJ Dysfunction?
Temporomandibular joint dysfunction is a term often used to describe when the TMJ has abnormal movement and symptoms. This is usually due to a misalignment of the jaw causing pressure and pain in the nerve or muscles around the joint. TMJ Disorders affect approximately 35 million Americans every year.
Abnormal Function of the TMJ
Our teeth are supposed to close neatly together when biting takes place. However, when the TMJ loses its ability to keep the teeth in the right position, the TMJ disorder patient compensates by adjusting their jaw movements to affect alignment and improve their bite. Over time this causes overworking and friction in the moving parts of the joint. As a result, pain, inflammation, arthritis, and crepitus can develop. In conclusion, it is nearly impossible to achieve a balanced bite without having your head aligned directly over your neck and shoulders.
Many factors can affect proper function of this joint including:
Injuries to the neck,
Injuries to the head,
Car accidents,
Sports accidents,
Slips and falls,
Alteration to the teeth (braces),
Blow to the jaw, and
Crooked, cracked, missing or damaged teeth.
Take this easy test to see how an unbalanced bite affects your posture, balance, flexibility and strength…click here
NUCCA Chiropractors and Dentists Work Together to Provide TMJ Relief
Dentists especially trained by the International College of Cranio-Mandibular Orthopedics (ICCMO) and chiropractors trained by the National Upper Cervical Chiropractic Association (NUCCA) work together to help patients get relief for TMJ symptoms. One of the first steps to realign your bite is to ensure that your head is balanced on top of your neck. If your head tilts to one side, your jaw swings to the opposite side causing you to grind your teeth. The same thing can happen if you have anterior head carriage. NUCCA upper cervical chiropractors literally get your head on straight to give you a better chance of having proper biomechanics in the temporomandibular joints and a balanced bite. It's amazing- NUCCA helps end jaw pain!
Want to read more, click here for TMJ Relief in San Diego, CA – Part 2.
Want an expert on your health team? Call our office at (619) 756-7510 or request an appointment here.
Gentle Adjustments. Powerful Results.
NUCCA | Upper Cervical Care Intouch Chiropractic | San Diego, CA (619) 756-7510
Know someone that could use our help with TMJ and jaw pain? Pass it on…