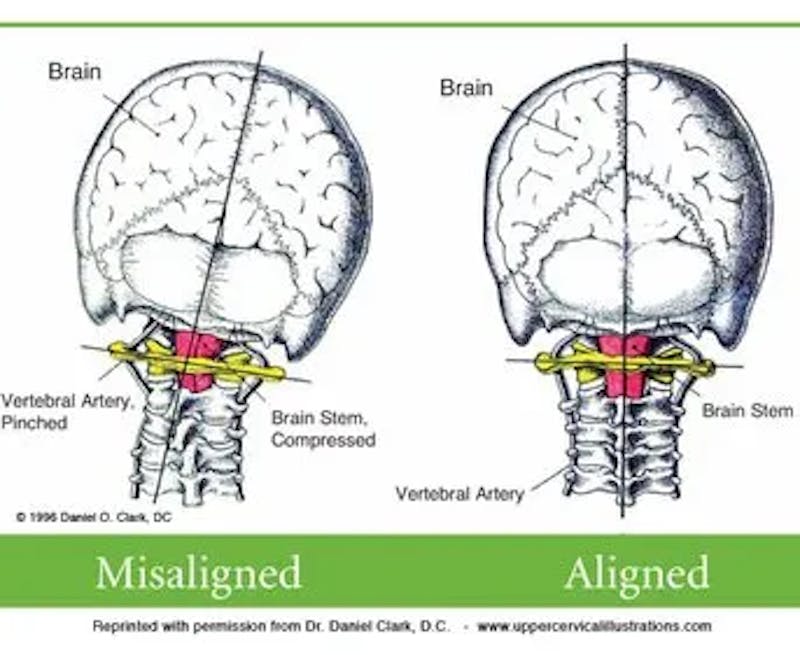 TMJ Disorders are Common
Are you searching for TMJ help that is conservative and gentle? Have you bounced around between healthcare providers and still have pain and discomfort? We oftentimes meet patients that have suffered for years without getting help.
Common symptoms for TMJ Disorders are:
ear pain/earache,
popping sounds in ears,
headaches,
stiff or sore jaw muscles,
pain in the temple area, or
locking of the jaw joint.
Many patients see their primary doctor, general dentist, neuromuscular dentist and/or an EENT before a friend or family member mentions upper cervical care to them. The symptoms can vary making misdiagnosis very frequent and common.
Your Jaw and Your Skull Are Connected
Most patients don't think about their skull when they are having TMJ and symptoms. However, the upper jaw is attached to the skull. The lower jaw hinges open and closed by the temperomandibular joints. When there are problems with one or both of these joints, you get a variety of symptoms that affect eating, chewing, talking and even swallowing.
At Intouch Chiropractic we take specialized x-ray images to study the alignment of your skull in relation to your body. If your skull/head is tilted and out of place, it will affect your jaw and your TMJ indirectly. We look to get your head on straight so that when you open and close your mouth, you upper and lower jaw are in the optimal position alleviating the symptoms of TMJ. With NUCCA | Upper Cervical Care protocols, we help patients get relief for TMJ symptoms without medications, night guards or surgery.
Do This Quick Test
Stand in front of the mirror and tap your teeth together. Now, tilt your head and tap your teeth together. Do you feel the difference? The position of your skull/head affects how your upper jaw and lower jaw function. Having your head on straight is critical.
TMJ Help
We provide a conservative and gentle approach for TMJ relief. We focus on the position of the head and neck and the relationship between the two. Don't give up on finding a solution for your TMJ and jaw pain. Call our office to find out if we can help you with your TMJ symptoms at (619) 756-7510
Interested in learning more? Smiling is One of the Healthiest Habits
Gentle NUCCA Chiropractors Intouch Chiropractic | San Diego, CA (619) 756-7510 sandiegonucca.com