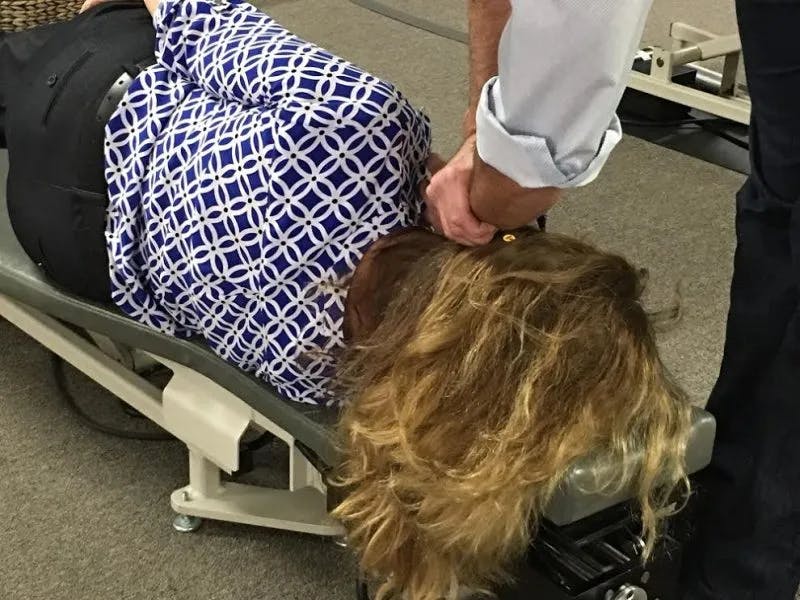 I came to Intouch Chiropractic in tears
"Recommended by a good friend of mine, I came to Intouch Chiropractic in tears. My husband and I have both been patients of Dr. Young for a few months now. I started seeing Dr. Young in May when I woke up literally paralyzed to my bed. I was seriously in agony. I am a mother and a wife and could not do anything for my family. A few weeks prior, I had some upper back/neck pain but just thought I had slept wrong and that the pain would eventually go away. Boy was I wrong. I was literally twisted.
They made me feel so comfortable and confirmed my decision that chiropractic was the way to go. I put all my trust in Dr. Young but I was scared. Spinal treatment to me was frightening, but with every adjustment I got, my body felt more and more natural, vibrant, and HEALTHY.
My husband was already a big fan of chiropractic care so it didn't take him long to start treatment as well. He is a tattooer and has horrible posture, working for long hours in odd positions. He is seeing such amazing results like me. We are now down to weekly adjustments and start every week with Dr. Young. We love walking into the office to see Tamara's smile. We now recommend chiropractic care to everyone. Dr. Young and Dr. Tapia are amazing. Your body will thank you! Thank you Dr. Young for always doing your best, your positivity is contagious. (happy carrots!)"
-Nick & Cissy
Correct Posture
Did you know NUCCA helps correct posture? Your nervous system regulates muscle tone in your body. It does this by sensing the position of your joints with little receptors in your joints called "mechano-receptors". These little receptors relay information to the spinal cord and brainstem. The spinal cord and brainstem then tell the muscles how tight or loose to be. This occurs without any conscious effort 24 hours a day. So if you have had accidents, falls, or traumas from repetitive stress injuries, your joints and muscles have likely moved out of place resulting in muscle imbalance.
The NUCCA procedure works on balancing the nervous system so that this reflex can be properly restored. This allows proper nerve flow to the muscles allowing you to stand up straighter without conscious thought.
Gentle Adjustments. Powerful Results.
Gentle NUCCA Chiropractors Intouch Chiropractic | San Diego, CA
sandiegonucca.com (619) 756-7510
Know someone that could use the help of upper cervical care? Pass it on! :)